"Revved up and ready"
Abington girl breaks new ground in auto contest
May 12, 2001 -- BY SHANLEY STERN SSTERN@CNC.COM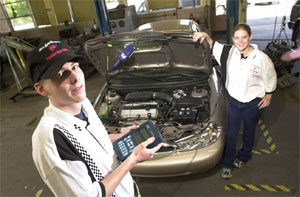 The first Massachusetts female to win a state-wide high school automotive contest will travel to Washington D.C. this June to compete with her teammate against the 50 best teams in the country.

Brenda Fry, 17, of Abington, knew she wanted to work with cars since she helped her father as a young girl fix their lawnmower. She never wavered from her conviction and headed straight to the automotive department at South Shore Vocational Technical School in Hanover her freshman year. She learned to repair brakes, change the oil, replace exhaust systems and rotate the tires while at the same time taking regular high school academic classes.

Now a senior, Fry said she works full-time at Jiffy Lube in Whitman where she is the only female mechanic.

"Every once in a while people will come in and get mad that a girl is working on their car, " Fry said, " or they will get out of the car and watch every little thing I do. I think its because they didn't grow up with girls working on cars. But now there are more girls in the field."

While there are eight females enrolled in the school's automotive program, automotive instructor David Haskins said only 50 percent will stay in the field, as opposed to 80 percent of the males.

Fry's partner, senior Patrick Murphy, of Hingham, also knew from a young age that he had a talent with cars. Two years before he was eligible for his driver's license, Murphy and his best friend bought an old car and taught themselves through many days of trial and error how to fix its parts.

"We worked on it every weekend, " Murphy said, "If we broke something, we would just figure out how to fix it again, I was always better with hands-on things."

The duo competed last month in the contest against 10 other teams from across the state, Each team was given an identical Ford 2001 car with 10 things wrong with it. Each team was responsible for identifying the problems and then fixing them while being timed. Fry and Murphy fixed all the defects in 39 minutes, by far the fastest time

Haskins said South Shore Vocational Technical School has won the competition seven times since 1992, but Fry is the first female to win.

"The win was really a group effort," Haskins said. "Teachers and the administration gave them extra time to practice and Jannelle Ford gave them a car to work on. Not every dealership would do that."

Though both Fry and Murphy want to stay connected to the automotive field in the future, both will be attending local colleges in the fall. Murphy is going to major in mechanical engineering and Fry in business management.

The annual competition entails not only a hands-on test, but requires a written test to qualify. The top two scores enter the contest.

Vocational school superintendent John Kosko said he viewed the students' win as not only a tribute to them, but also as a too] to measure acquired learning. As a key figure in the fight to include a technical element on the MCAS tests for vocational students, Kosko said these types of competitions speak to the kind of achievements theses students reach.

"There needs to be a technical component put in place for these students on the MCAS," Kosko said. "I'm not looking to diminish the importance of the test, but I think it makes common sense that it be included as an assessment."

While vocational students traditionally scored low on the MCAS, Kosko said South Shore Vocational Technical School students scored at the top for technical schools.

Since seniors will be required to pass the test starting next year in order to graduate from high school, Kosko said the state educational board will hold a hearing at the state house to evaluate incorporating a technical element.

Reprinted with permission from Abington Mariner"; Photo credit: © cdb photos.